Dear Friend,
November 25 marked the beginning of the global campaign, 16 Days of Activism to End Gender-Based Violence. Running annually from November 25 (the International Day for the Elimination of Violence Against Women) to December 10 (Human Rights Day), the campaign aims to build global awareness about domestic violence as a human rights violation. The 2019 theme, Ending Gender-Based Violence in the World of Work, focuses on the link between domestic violence, labor rights, and economic justice for survivors.
Movements such as #MeToo, #TimesUp, and #NiUnaMenos highlight how women are enduring harassment, sexual assault, and domestic violence in the workplace. This type of abuse and harassment can lead to employment discrimination, which negatively impacts a survivor's financial stability.

#SurvivorsDeserve to work in a safe environment. Learn more about NNEDV's economic justice policy solutions that will hold employers accountable and ensure survivors are protected from discrimination and paid fairly for their work. We're proud to join more than 6,000 organizations around the world in the fight to end domestic violence through the 16 Days campaign. Through campaigns like this and our work with the Global Network of Women's Shelters (GNWS), we are able to mobilize on an international scale to make the world safer for survivors. With your help, we can make it easier for survivors to rebuild after experiencing financial abuse.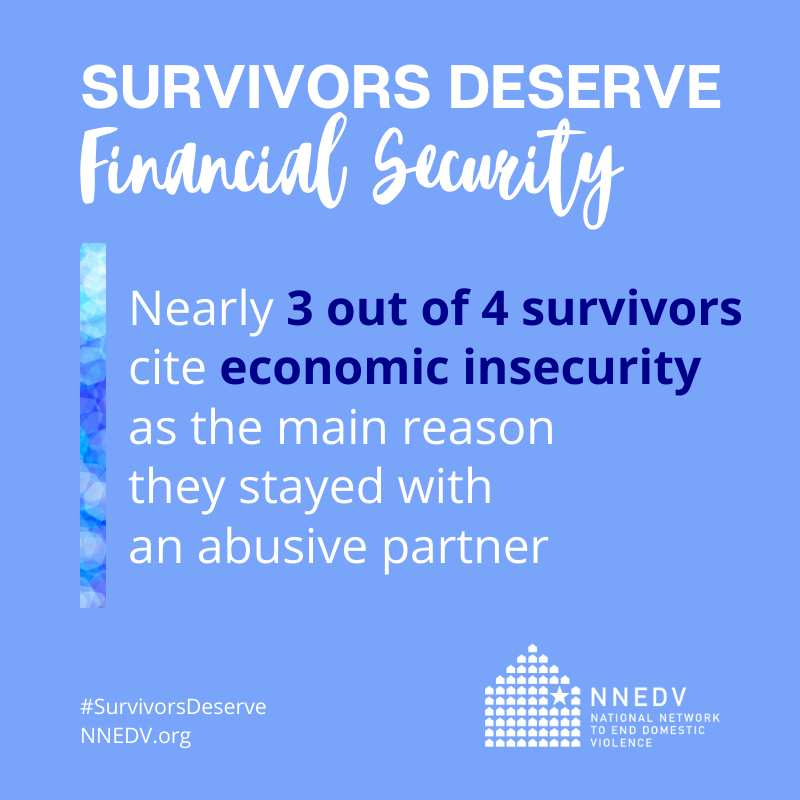 Financial abuse occurs in 99% of domestic violence cases and can result in damaged work histories, ruined credit scores, homelessness, and poverty. For this reason, NNEDV provides training for advocates (in partnership with the Allstate Foundation) to strengthen their ability to assist survivors seeking financial security. Through the Independence Project, a credit-building micro-lending program, we are helping survivors of domestic violence improve their credit scores and gain access to resources. But we can't do this work without your support!
Learn more about the 16 Days campaign, download our fact sheet about financial abuse, and join us by supporting our economic justice work.
Thank you for being a voice against violence.
For Peace and Safety,


Cindy Southworth
Executive Vice President and Interim CEO

P.S.
Consider supporting our economic justice work on #GivingTuesday, taking place on December 3!