Dear Supporter,

NNEDV has been busy planning our signature events, webinars, and conferences (please register below!), which provide opportunities for advocates and community members to connect, collaborate, and discuss how we can all better serve survivors of violence. Whether you are attending advocate trainings and events or joining the conversations online, you are helping to amplify survivor needs and create supportive spaces. In this newsletter, we highlight learning, knowledge sharing, and networking opportunities in support of survivors that are hosted by NNEDV.

Join us for the Domestic Violence Counts
Virtual Congressional Briefing

Join NNEDV on May 11 at 2pm ET as we discuss the findings from our 15th annual Domestic Violence Counts Report. The briefing will provide an opportunity for NNEDV, survivors, coalitions, local programs, and Members of Congress to discuss the needs of survivors and the policy recommendations that will help improve survivor safety. You'll be able to watch the briefing live on Facebook. Follow us on Facebook today to make sure you don't miss the event.
I will be moderating an incredible panel. Participants in the briefing include:
Zaida Hernandez

, Sisters Overcoming Abusive Relationships (SOAR)

Rachna Khare

, Executive Director, Daya Houston

Cierra Hart

, Housing and Economic Justice Manager, New Jersey Coalition to End Domestic Violence

Dr. Leila Woods

, MSSW, Assistant Professor, Director of Evaluation for the Center for Violence Prevention, Department of Ob/Gyn, University of Texas, Medical Branch

Representative Brian Fitzpatrick

(R-PA 1st District)

Representative Gwen Moore

(D-WI 4th District)
Representative Sheila Jackson Lee (D-TX 18th District) (invited)
Representative John Katko (D-NY 24th District) (invited)
For 15 years, the Domestic Violence Counts Report has served as a critical resource for advocates, policymakers, and journalist in need of data on domestic violence services provided in the United States, the District of Columbia, and four other U.S. territories (American Samoa, Guam, Puerto Rico, and the U.S. Virgin Islands). You can read our past reports here. NNEDV is grateful for the advocates who take the time to complete this survey every year and provide such compelling data and stories that demonstrate the urgent needs of survivors.

Follow NNEDV on Facebook. | Read past Domestic Violence Counts Reports.

WomensLaw Online Information Clinics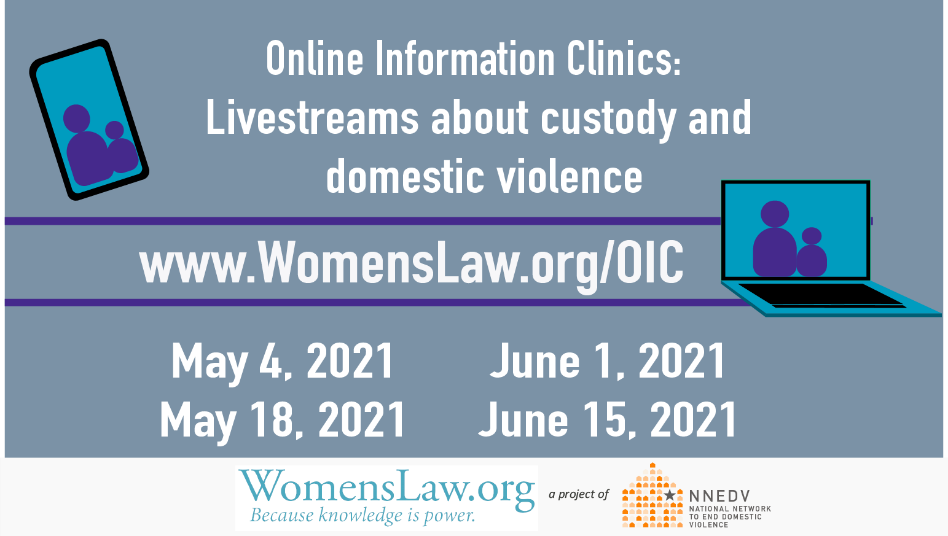 Join WomensLaw for our second set of Online Information Clinics (OICs), focusing on custody. Every other Tuesday in May and June, we will be premiering the OICs live on WomensLaw.org. These are free, open to the public, and there is no registration required.
Join us at 12:00pm ET on: May 4, May 18, June 1, and June 15.
If you have a question related to domestic violence, sexual assault, or stalking, you can chat online with a WomensLaw lawyer to get free, plain-language legal information. These chats are anonymous, confidential, and get you direct access to lawyers who can answer questions related to custody, domestic violence, and related topics.
Last year, WomensLaw hosted a series of OICs focused on restraining orders. You can view the recordings here and visit WomensLaw.org to learn more about restraining order laws in your state.

Learn more.

Registration is Open for
Virtual Technology Summit 2021!


Join us July 19–22 for Safety Net's Virtual Tech Summit Conference. Tech Summit brings together victim advocates, professionals in the justice system, tech experts, and service providers to discuss and share critical and timely information about our work to respond to technology abuse, support survivors in their use of tech, and harness tech to improve services. Conference content will focus on relevant and emerging issues at the intersection of technology, privacy, confidentiality, civil rights, and innovation, as it relates to safety and abuse. This will include the digital divide, non-consensual image sharing, privacy during a public health crisis, and more.

Virtual Technology Summit will include 9 webinars over the course of 4 days; all presented over the Zoom platform. Each session will include American Sign Language and closed captioning. Registration includes all webinars and access to recorded sessions and materials for one-year via a password protected site.

Register for Virtual Tech Summit.

The Allstate Foundation and NNEDV Support Culturally Specific Domestic Violence Programs during COVID-19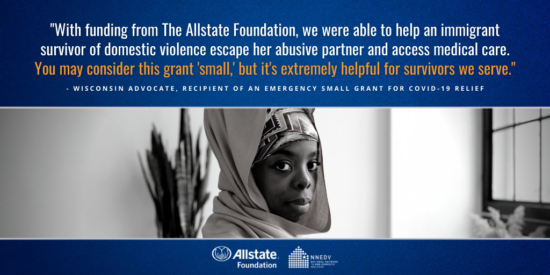 In October 2020, The Allstate Foundation partnered with NNEDV to provide $565,000 in grants to help culturally specific domestic violence organizations offset hardships caused by the COVID-19 pandemic. Thanks to this generous funding, 79 local domestic violence organizations in 29 states, American Samoa, the District of Columbia, and the U.S. Virgin Islands were able to support 5,683 survivors during the ongoing stress and uncertainty of the pandemic. We are grateful that The Allstate Foundation has provided more than $1 million in grants to local domestic violence organizations over the past year, including these grants. Today, we're happy to share a recent report from the grant recipients about how they have used their emergency relief funding to support survivors.

NNEDV is hiring. We are looking for dedicated advocates who are committed to ending domestic violence to join our team. Learn more and apply today:

Link Roundup: NNEDV in the News
In case you missed it, NNEDV was featured in the following articles recently…
Women's Health: "A victim is experiencing a lack of control over their own decisions. The last thing you want to do is take more power away from them by making choices on their behalf." –Deborah J. Vagins, President and CEO

The 411K: "Financial abuse can be incredibly effective in keeping a partner trapped in a relationship [...] 99 percent of survivors experience financial abuse." –Kim Pentico, Director of Economic Justice
Avast Blog: "Often when background checks are promoted as part of a [dating app] feature functionality, they're promoted as a safeguard without any context of their limitations. If someone doesn't come up…. that can lead someone to think there isn't an issue. But we know that a lot of people are not convicted in a way that would actually show up in a background check." – Erica Olsen, Director of Safety Net