Dear Supporter,

June has been a month for advocacy, with people all over the world organizing and protesting for racial justice and civil rights. NNEDV will continue to acknowledge the work we must do internally and externally to dismantle systemic oppression and address the multiple forms of oppression that impact advocates and survivors in this field. We must also be led by and lift up the work of our partner organizations leading the work to address racism and intersecting forms of discrimination across communities. Our actions can have an impact on society as a whole and together we can create meaningful change.

This month has also been a time celebrate two important holidays with historical roots in advocacy and action. Throughout Pride Month, NNEDV has been lifting up the work of our national partners and highlighting the discrimination in healthcare LGBTQ+ survivors face, while celebrating the incredible Supreme Court victory ensuring employment discrimination protections for LGBTQ+ workers. On June 19, NNEDV also honored Juneteenth, a celebration of the end of chattel slavery in the United States, two years after the signing of the Emancipation Proclamation. We commemorated the holiday by sharing resources to help educate and encourage action in support of Black lives. Our friends at Ujima have put together a fact sheet for you to learn more about the holiday.

This month we highlight examples of the advocacy work, which calls for long-term systematic changes, as well as the collaborative efforts to help fill immediate needs. NNEDV is dedicated to changing our social, political, and economic environment to create a world where violence against anyone – no matter their sex, race, religion, ethnicity, sexual orientation or gender identity, age, disability or other and intersecting identities – no longer exists. There are no exceptions when it comes to the basic right to have safety, equal rights, and freedom from discrimination.



Raising Awareness and Action this
Pride Month with our Partners at The NW Network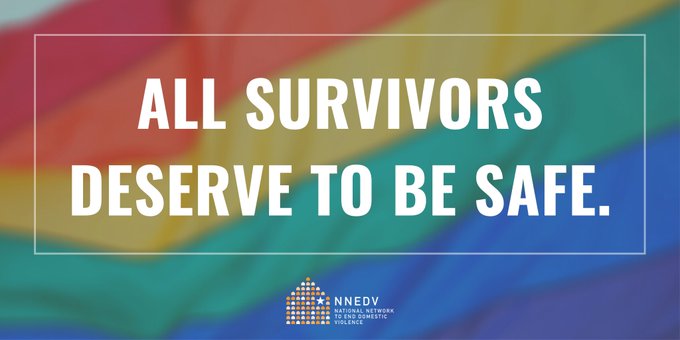 June is Pride Month, a time for increasing visibility, ensuring equal rights, building community, and celebrating who you are, while advocating against homophobia, violence, and discrimination. NNEDV is in solidarity with the LGBTQ+ community, especially LGBTQ+ survivors of domestic violence, who deserve inclusive and identity-affirming services. Survivors in the LGBTQ+ community face barriers to safety due to a lack of specific resources and a hesitancy for victims to involve law enforcement systems when abuse is occurring. These systems often fail to address the dynamics of domestic violence and the needs of the LGBTQ+ community. It is critical that all survivors have access to inclusive and identity-affirming services.
NNEDV is committed to breaking down myths and stereotypes about domestic violence and increasing access to resources for LGBTQ+ survivors. For example, through our work on the reauthorization of the Violence Against Women Act (VAWA), NNEDV will continue to advocate for increased protections for all survivors – with no rollbacks of current inclusive policies. Our friends at The Northwest Network have put together this advocacy toolkit for you to use to join us in this work.

Access the Toolkit.

Groundbreaking Cross-Sector Collaboration
Delivers 100,000+ Masks to Shelters and Survivors in Need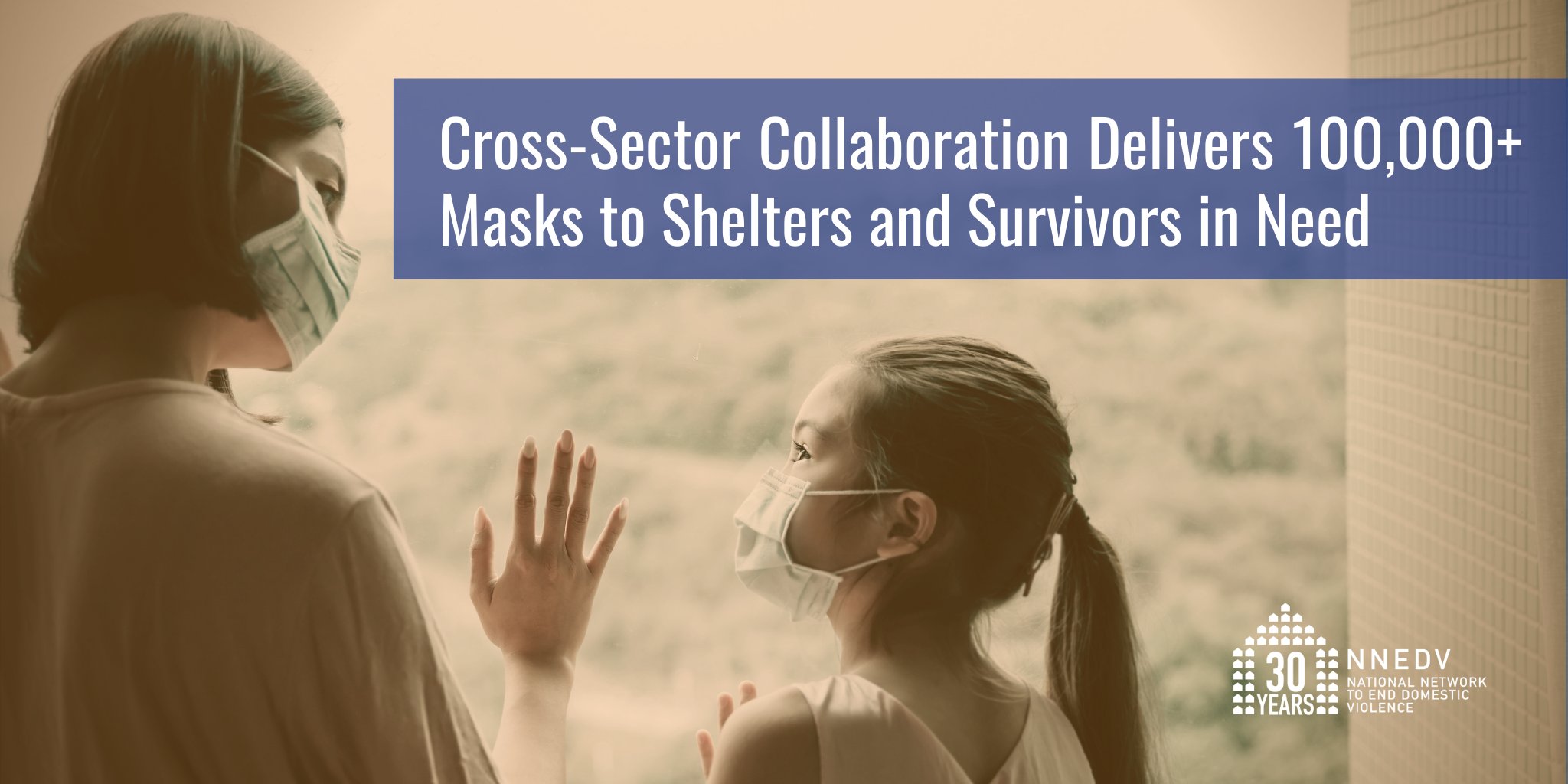 NNEDV is excited to announce a partnership with the Alliance of Tribal Coalitions to End Violence (ATCEV), the Sexual Assault Resource Sharing Project (RSP), and the Deaf Anti-Violence Coalition (DAVC), with ProCure Hope, Women Moving Millions, and WeWork to provide more than 100,000 surgical masks and face shields to domestic violence, sexual assault, dual, and tribal coalitions and local programs across the United States.

Since the beginning of COVID-19, NNEDV's has been working to ensure survivors have a safe place to go during and after the pandemic, and that domestic violence organizations feel prepared to continue serving them. Access to personal protective equipment (PPE) has been an ongoing concern for shelter programs who, like many essential services across the country, are having trouble accessing these critical resources. NNEDV, ATCEV, RSP, and DAVC are humbled by the outpouring of generosity from ProCure Hope, Women Moving Millions, and WeWork, who provided the PPE, and by the support received in the past several months by individuals like you, who help make partnerships like this possible.

Read More.

Addressing the Intersections of
Racism, Privacy, and Technology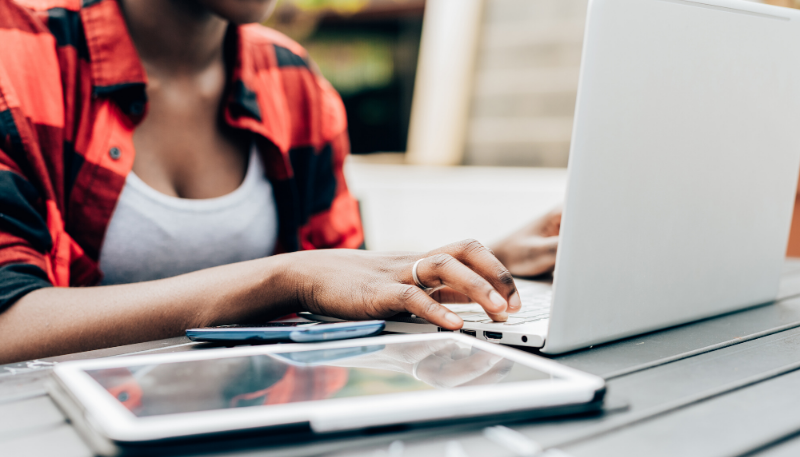 NNEDV rejects violence everywhere and as an organization we are working to take actionable steps to do our part in dismantling the systems of racism and oppression that enable all forms of violence wherever they occur. Our Safety Net project works at the intersection of technology and domestic and sexual violence and works to address how it impacts the safety, privacy, accessibility, and civil rights of victims. Earlier this month, we released a statement on the recent violent assaults on Black life in the United States, the horrific acts of violence and bias across the country, and its intersection with technology misuse. Our work to end domestic violence is intertwined with the experiences of all survivors and this work cannot be done without centering the voices and lives of people at the margins.
Keeping Domestic Violence on the
National Agenda through NNEDV's Advocacy Days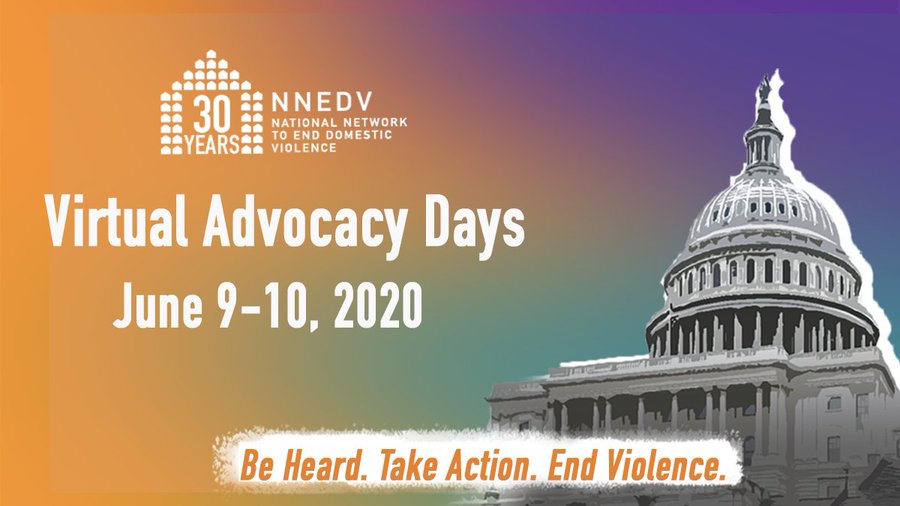 Earlier this month, NNEDV held its first-ever virtual Advocacy Days conference. While we missed being able to convene in person for this annual event, we are so grateful to have the opportunity to advance the collective agenda of domestic violence leadership from across the United States with the help of technology. NNEDV would not be able to do this work without the partnership and participation of the state and territorial domestic violence coalitions and their local programs– this year, more than 150 advocates from across the country advocated for increased funding and services to support survivors' immediate needs.

Advocates shared highlights from Virtual Advocacy Days in real-time on Twitter. I encourage you to take a look to learn more about our legislative priorities and to see advocates from across the country in action.

Scroll through the Twitter Moment.

Saying Farewell to Our First
Tech Safety Advocate, Cindy Southworth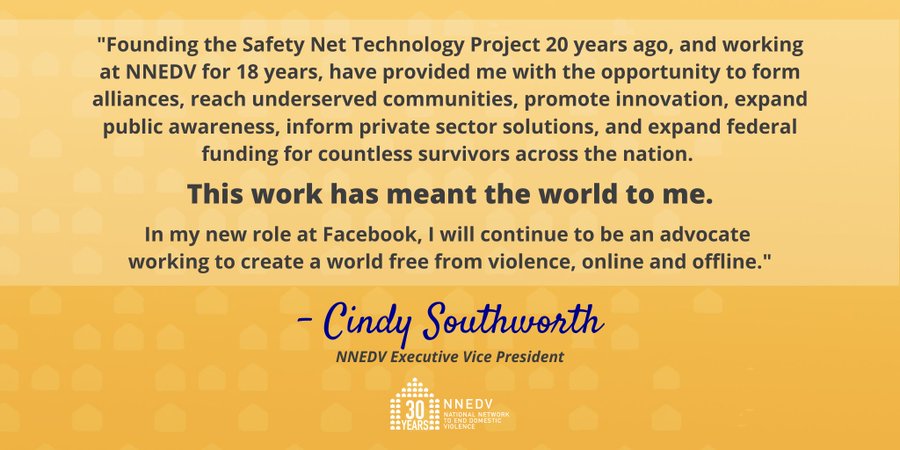 After 18 years of staunch advocacy, we are sad to announce that Cindy Southworth is leaving the nonprofit field to continue her tech advocacy work at a major technology company. Cindy came to NNEDV two years after founding the Safety Net project, which is dedicated to addressing the intersection of technology and gender-based violence. Over the years, the Safety Net project has become a global expert on the topic of survivor safety and confidentiality, and it is largely thanks to Cindy's vision and leadership. Cindy has spent more than 28 years working at the local, state, and national level, and her contributions will not be forgotten. Before leaving, Cindy shared with us some parting words on the Safety Net blog. She will be deeply missed, but her work to increase technology safety within the domestic violence field will continue.

Read more, "Always an Advocate" for Tech Safety.

Link Roundup: NNEDV in the News
In case you missed it, NNEDV was featured in the following news articles this month…