Dear Supporter,
Today, the National Network to End Domestic Violence (NNEDV) released the findings from our 15th annual Domestic Violence Counts Report via a virtual Congressional Briefing (watch the briefing here). Not only is the Domestic Violence Counts Report a trusted source of data on the services domestic violence advocates provide to survivors each day, but it brings to light survivors' stories about safety and security, unmet needs and unfunded services, and healing and rebuilding.
In just one day, over 1,600 domestic violence organizations and thousands of advocates provided lifesaving services to 76,525 survivors of domestic violence. The Domestic Violence Counts Report provides a snapshot of powerful stories about the work of advocates and the challenging circumstances survivors face.
Unfortunately, in the same day, 11,047 requests for services went unmet and left many victims of domestic violence in danger. Every day, programs across the country are unable to fulfill requests for services due to lack of funds, staffing, or both. The ongoing pandemic created additional complications for programs, with many being forced to reduce shelter capacity, staffing, and pause other critical services in an effort to respond to COVID-19.
The 15th annual Domestic Violence Counts Report shows the power of collective action and compassionate support for one another when faced with challenges. Despite the multiple, intersecting crises we've faced over the last year—including the pandemic, natural disasters, an economic downturn, and ongoing racial injustice—domestic violence programs have kept their doors open and have done whatever possible to continue to provide services to survivors in need.
The 15th annual Domestic Violence Counts Report brings to light numerous barriers to safety for survivors and their families—from housing and transportation, to counseling and childcare, and so much more. I've included some highlights from the report below.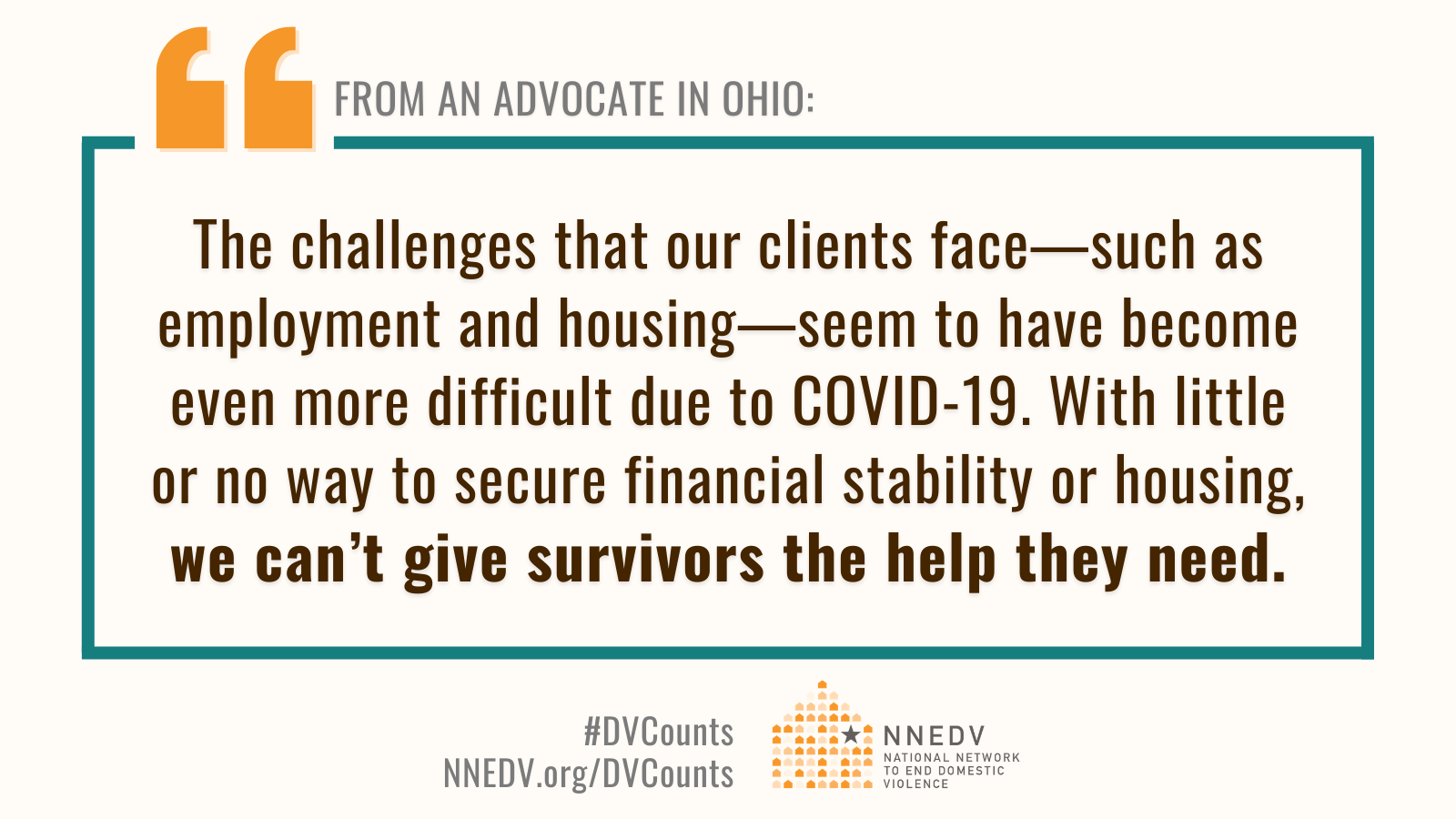 COVID-19 Intensifies Existing Barriers to Safety
Victims of domestic violence face unique hardships as the world continues to navigate COVID-19. Existing barriers to safety for survivors, like a lack of housing, childcare, and economic security were further exacerbated by the crisis. The ongoing pandemic has highlighted the critical role of victim advocates who support survivors of abuse and that being home poses heightened risks and fewer options for those experiencing abuse.
Domestic violence programs faced the challenges caused by COVID-19 without interrupting lifesaving services through creative approaches and by making unexpected investments. Despite the fact that many programs are already stretching every penny, most had to spend unexpected resources in response to COVID-19: 36% of participating programs reported more than $25,000 in unplanned spending during the pandemic. For many programs, this can be catastrophic for their budgets in both the current year and into the next.
Supporting survivors and advocates means providing COVID-19 relief funds to allow local programs to meet the immediate and longer-term needs of survivors and increase access to housing, health, and economic resources for all survivors.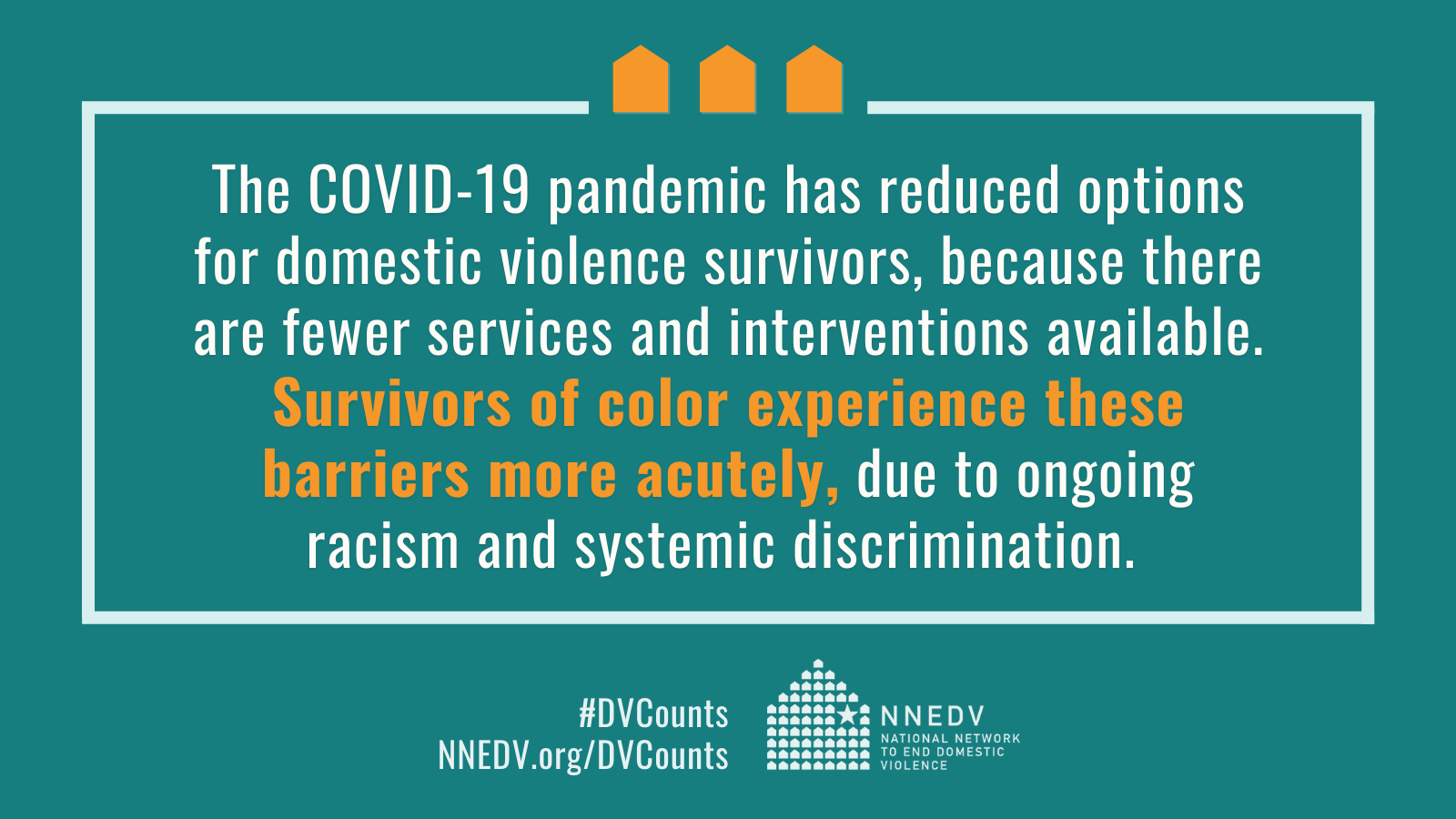 Limited Resources and Services Further Marginalize Underserved Victims
For survivors who are Black, Indigenous, or People of Color; lesbian, gay, bisexual, transgender, queer, intersex, or agender/asexual (LGBTQIA+); immigrant survivors; and survivors who are experiencing mental illness, addiction, or living with disabilities, COVID-19 and its consequences has had a disproportionate impact on them, with many suffering increased negative health and financial outcomes compared to the general population.
Meeting the unique needs of survivors from these communities requires culturally competent and accessible services and programs, as well as federal reforms that address systemic discrimination and other barriers. Programs need increased resources to address structural barriers to safety and to expand specialized services and outreach.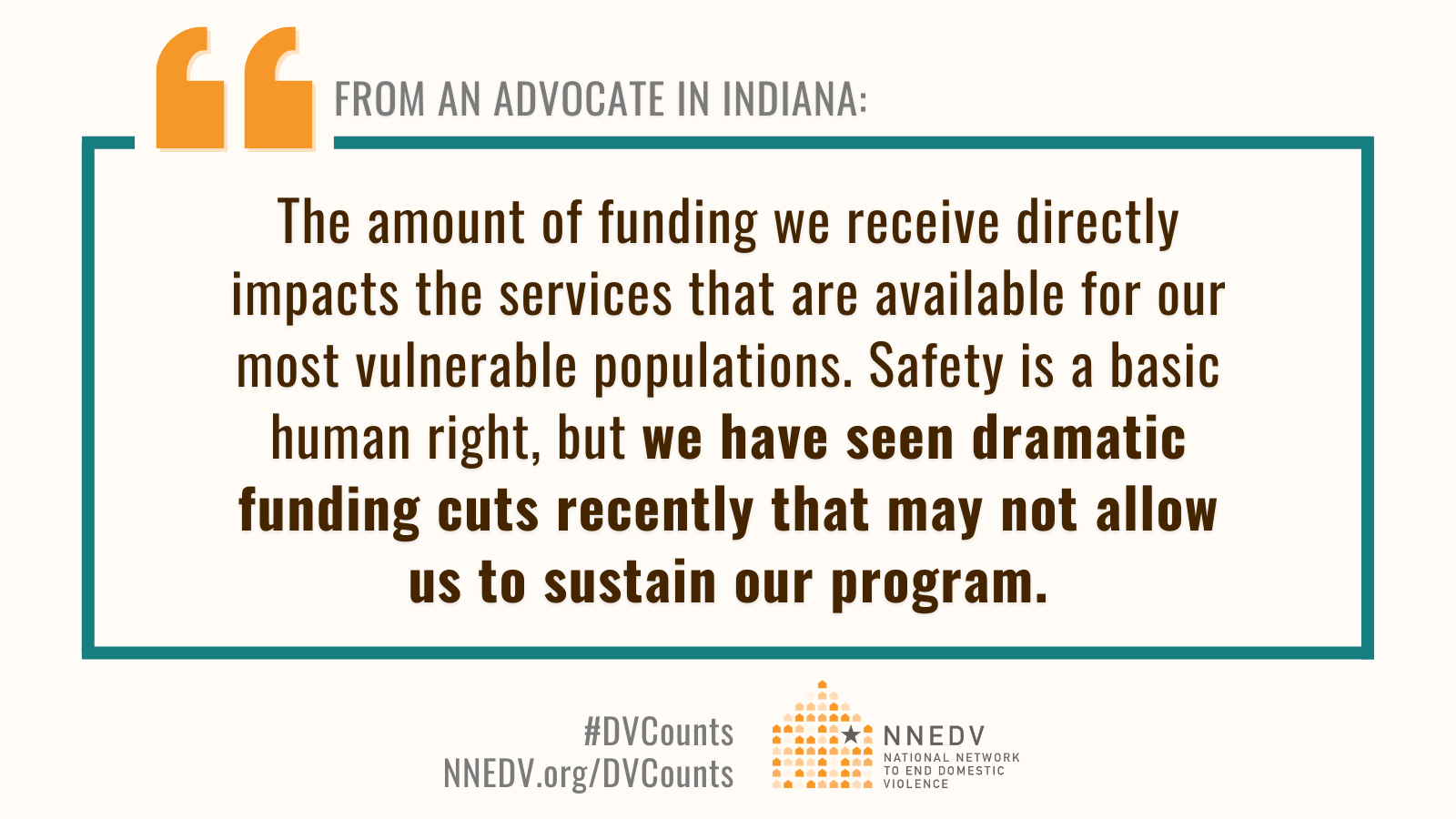 Ending Abuse Requires Federal Investments
We know how important funding and domestic violence services are—programs stretch every penny of funding and leverage community volunteers to provide essential services, and use creative approaches to meet survivors' needs. But each year, advocates also report a shocking number of unmet requests from survivors who desperately need help, as well as a multitude of systemic barriers facing survivors as they try to rebuild their lives.
Only through urgent public policy changes can we ensure that when a victims reach out for help, they are met with compassion, advocacy, and a place to go. To make real strides in reducing gender-based violence during this challenging time, we are urging Congress and the Biden-Harris Administration to invest in strategies that prevent violence and advance access to safety, justice, and economic stability for survivors, while reducing reliance on systems that are not helping all survivors. In particular, NNEDV is calling on policymakers to center the needs of survivors of color in all legislation, appropriations, and policymaking, and to support funding and policies that reduce barriers to safety and justice for survivors who face past or ongoing oppression and systemic discrimination.
With gratitude,



Deborah J. Vagins
NNEDV President and CEO