Dear Supporter,
Here at the National Network to End Domestic Violence (NNEDV), we want to help amplify the voices of survivors and advocates in all that we do. By making our voices heard, we can raise awareness about the needs of survivors, coalitions, and programs, help shape policy, and change the way society responds to domestic and sexual violence.

This month, we are highlighting resources and information related to using your voice to help survivors and to create change. Whether you are writing or sharing stories or having conversations with people in your community, you are helping to make a difference. If you need some guidance about how to talk about domestic violence with your loved ones, I encourage you to check out our "10 Tips to Have an Informed Conversation about Domestic Violence" to help you get started.



Register today to join NNEDV on September 24-26 at the virtual Survivors' Agenda Summit, three days of workshops, performances, and critical conversations to change the national conversation on sexual violence. The summit is led by the Survivors' Agenda, an initiative focused on building power and changing the conversation–especially for those most marginalized and kept down by the structural oppressions of our society. NNEDV is proud to be a member of the steering committee for the Survivors' Agenda.

During the summit, thousands of survivors and advocates will convene to build collective power and grow a culture of care, safety, and respect for all. Over the past several months, the Survivors' Agenda has been crowdsourcing the issues, policies, and supports that survivors are calling for as a unified front, and we are excited to unveil the vision and amplify our collective voices. We invite all of those who may or may not self-identify as survivors, and who, by nature of their personal experiences, seek to build a better world.

Register for the Survivors' Summit. | Learn more about the Survivors' Agenda.

Exploring the Intersection of Technology
and Abuse During Virtual Tech Summit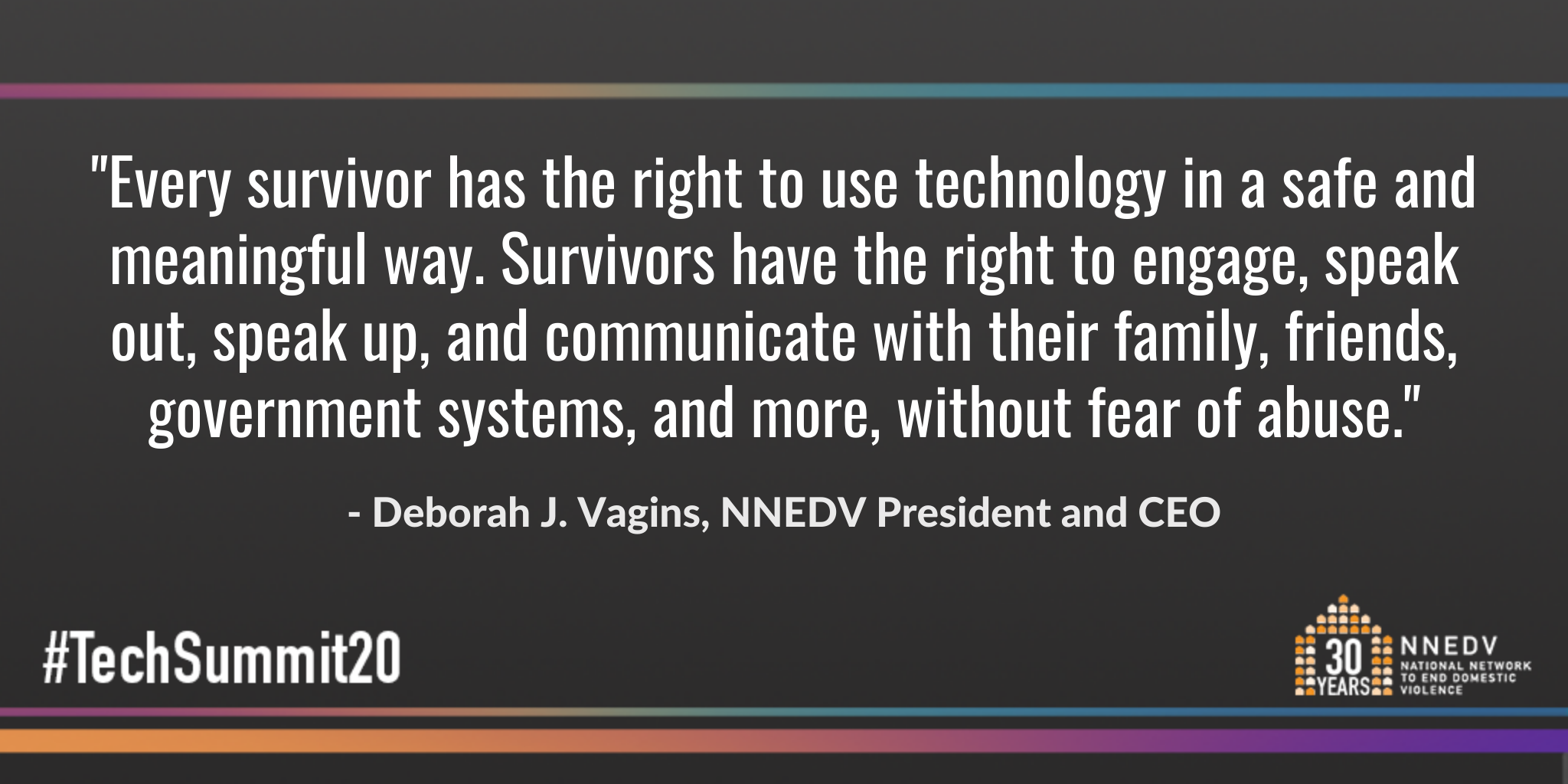 Earlier this month, more than 700 victim advocates, state coalitions, technology companies, professionals in the justice system, and others convened for NNEDV's Virtual Technology Summit. Now in its 8th year (but the first time held virtually), this summit provides unique and vital content to those working to address and end domestic and dating violence, sexual assault, and stalking.

We explored the ways technology has evolved, including the dramatic increase in digital services in the work to support survivors during COVID-19, growing concerns around online privacy, and increasing detection of Stalkerware during the pandemic. We also hosted sessions on online hate and gaming, teens and tech, privacy and confidentiality during a public health crisis, and more. I encourage you to take a look at our Twitter Moment for a recap of the critical discussions we held at the intersection of privacy, technology, civil rights, and domestic violence.

Browse the Virtual Technology Summit Twitter Moment.

#ISeeYou: Ensuring Survivors Are Seen
and Heard during COVID-19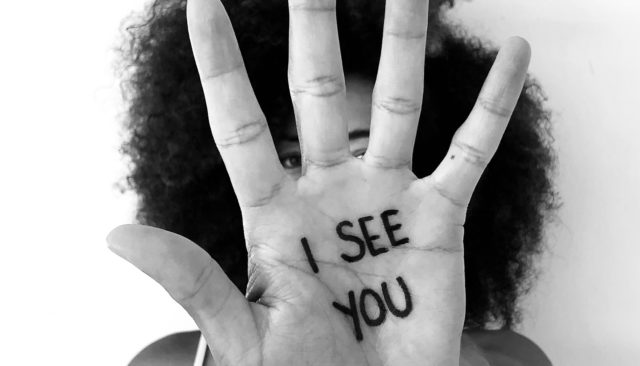 We were pleased to be a part of #ISeeYou, a public service campaign and video, to get the word out that help is available to survivors as incidents of domestic violence continue to rise during COVID-19. Supporting survivors has taken on a more urgent dimension, and we honor the tireless efforts of advocates, hotlines, and programs across the country who are working every day to support survivors in need.

During this pandemic, many survivors have been sheltering at home with abusive partners, and the spread of COVID-19 has created housing, childcare, financial, and other barriers that will continue to impact survivors' safety long after the pandemic has ended. While this pandemic has significantly increased demand for services in a short period of time, the resilience of survivors and our work to end domestic violence in the face of overwhelming challenges is not new. By coming together to get the word out, we can make sure survivors know that they are not alone and ensure that advocates, service providers, hotlines, and local programs have what they need to continue to help survivors through the challenges that lie ahead.

Learn more about the #ISeeYou campaign. | Watch the video.


Telling Survivor Stories Ethically:
A Guide for Media Professionals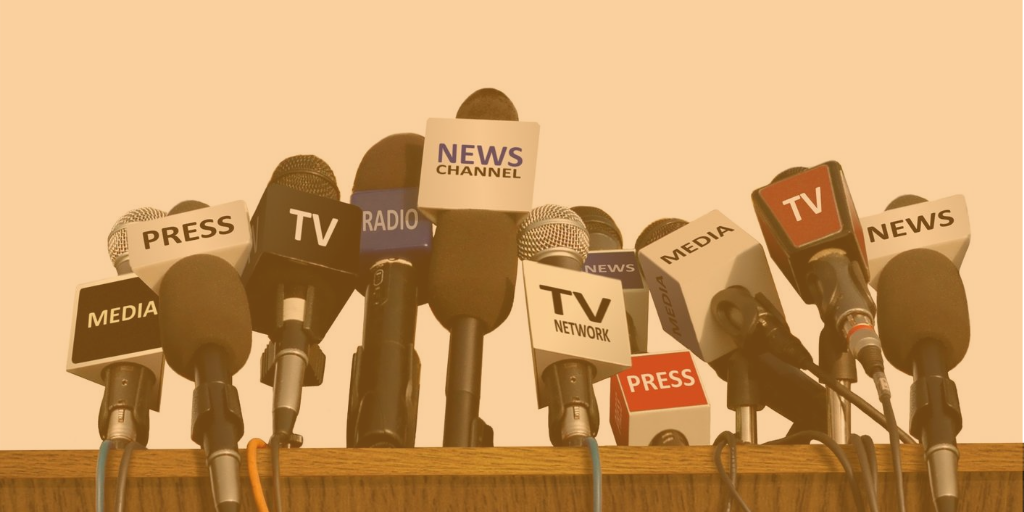 Sharing stories about the impact of domestic violence on survivors and our communities is critical to shining a light on the barriers to safety that thousands of survivors and their families face. Well-written stories can raise awareness, spark conversations, and lead to necessary changes. However, there are special considerations media professionals should take into account when writing domestic violence stories to ensure responsible storytelling and to protect victims' safety. Even as the discourse about domestic violence has changed over the past several decades, it is still common to see language in the media that minimizes, sensationalizes, or furthers inaccuracies about survivors' experiences.

In an effort to encourage responsible and trauma-informed storytelling, NNEDV has developed a media guide for addressing domestic violence. The guide outlines how to approach domestic violence stories, including protecting survivors' privacy while fact-checking, preventing victim blaming, using accountable language, and much more.

Access the media guide. (Thank you to The Allstate Foundation for their support in creating this guide.)

Link Roundup: NNEDV in the News
In case you missed it, NNEDV was featured in the following news articles this month…