Hi Friend,
Happy Thanksgiving from the National Network to End Domestic Violence!
As we all come together with those closest to us and give thanks, please don't forget the thousands of survivors and their children who are without a safe home this holiday season. For those of us who live in violence-free homes, Thanksgiving is a time where we can relax and be ourselves among those we love. For survivors of domestic violence, "home" often means something more precarious.

In a single day, more than 42,000 victims of domestic violence sought refuge in emergency shelter, transitional housing, or other housing.

Access to safe housing is critical for a survivor leaving an abusive partner, but there are often many barriers that prevent survivors from obtaining or maintaining safe and affordable housing. Issues such as financial abuse, poor rental history based on criminal actions by the abusive partner, confidentiality concerns, and limited options for safe housing can negatively impact a survivor's access to housing. This holiday season, support survivors across the country by supporting our work to ensure that every survivor has access to safe and affordable housing.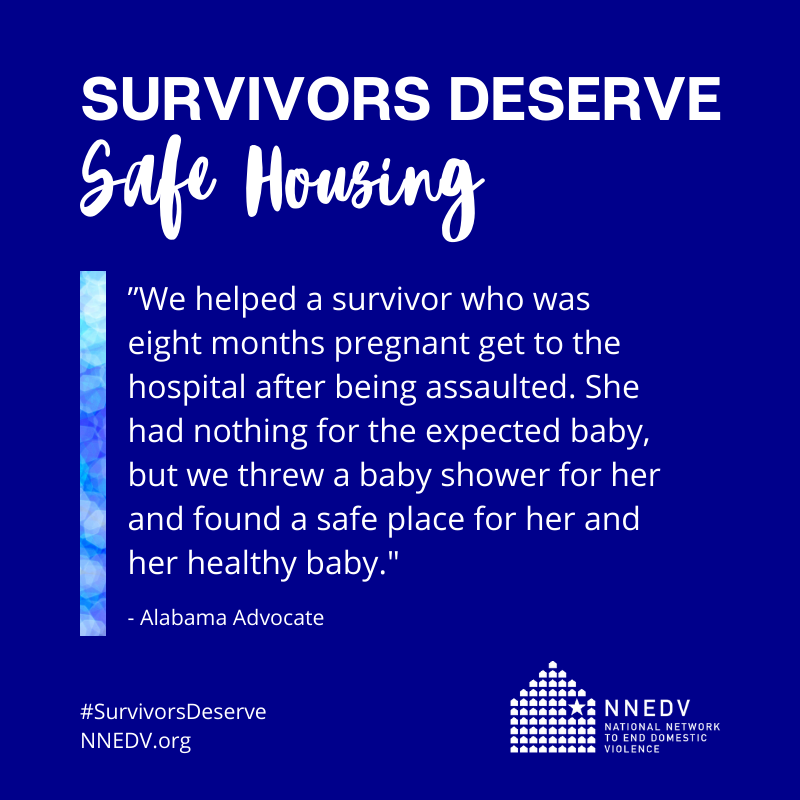 NNEDV is working to eliminate barriers to housing for survivors through federal policy and systems advocacy. We're on the ground working with local programs across the country to improve transitional housing services for survivors, so they can move out of shelter and into a home of their own. We're also on Capitol Hill, crafting survivor-centered federal public policy and serving as a voice for survivors and advocates by amplifying and giving voice to survivors' safe housing needs and concerns. Join us in our work to make every home a safe home.

We believe #SurvivorsDeserve safe housing. Every day, we're working to create survivor-centered systems that will support and protect thousands of brave survivors. We hope you'll stand with us.